Editor's note: Research, community service, internships and study abroad typically make summers memorable for many University of Delaware students. While the coronavirus (COVID-19) pandemic has sidetracked some of these activities, UD students are continuing on with hundreds of remarkable projects remotely. Check out our series of profiles and stories, which also are being highlighted on the Summer Spotlight website.
Alice Amitrano is a chemical engineering major from Rome, Italy. She also is working on a minor in chemistry and a minor in material science. Amitrano is on track to graduate from UD in spring 2021.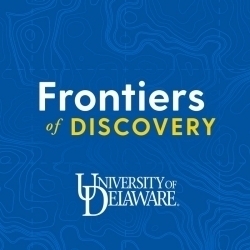 Q. What are you studying and with whom?
Amitrano: I am in the research group of Prof. Thomas Epps, III, in chemical and biomolecular engineering. My research focuses on 3D printing biobased materials derived from lignin, a complex polymer in the cell walls of plants that makes them rigid and woody. I also am investigating if these lignin-derived compounds can be suitable alternatives to BPA (bisphenol A), a chemical that's been used to make certain kinds of plastics and epoxy resins for decades. I'm assessing the toxicity of these lignin-derived compounds by modeling their binding within estrogen receptors via a molecular docking framework.
Molecular docking is a computational technique that allows me to study how two molecular structures (in my case, the biobased monomer and the estrogen receptor alpha) interact with each other. Thanks to molecular docking studies, we can analyze the toxicity of the ligand (the bonded molecule) when it interacts with the estrogen. This is really good because it all happens in silico (on the computer by simulations) and then can later be verified in vitro (experimentally).
Q. What inspired this project?
Amitrano: The inspiration for this research comes from the fact that our society needs renewable polymers to reduce the world's dependency on petrochemicals. The materials that we are studying are biobased, biodegradable, biocompatible and desirable alternatives for current materials in numerous applications in today's world.
Q. What is it about this topic that interests you?
Amitrano: What most interests me about my research is having the ability to study the properties and applications of new biobased materials by 3D printing them. It would be a great step forward if our society can also depend on biobased materials — and not just the more toxic, petroleum-based materials, such as BPA.
Q. How has COVID-19 shaped your plans for this project? Is flexibility something that comes easily for you?
Amitrano: Due to COVID-19, our experimental research was delayed because of the impossibility of accessing lab facilities and using the 3D printer. However, it was really helpful to spend more time conducting literature research and planning our next steps towards 3D printing biobased materials. Also, it gave me the opportunity to improve my understanding of molecular docking software and investigate the affinity of lignin-derived BPA alternatives to estrogen receptors. Flexibility is not an issue for me. I like having new challenges and learning new topics and tools so that helped me extend my knowledge.
Q. What are the possible real-world applications for your study?
Amitrano: 3D printing in the future is projected to be a fundamental part of the next-generation manufacturing world. It can shape materials and objects on demand and relatively fast. It would be a great opportunity to replace petrochemicals with biobased materials in the world.
Q. How would you explain your work to a fifth grader?
Amitrano: If I had to explain what I am doing to a little kid, I would say that I am like a cook that is putting ingredients that nature has given us in an oven to get a tasty and healthy meal.
Q. What advice would you give younger kids (middle school or high school) with similar interests?
Amitrano: That, like in everything in life, it is really important to have a deep knowledge of the world and its culture to have an open mind on every possible problem.
Q. Have the changes required by the pandemic changed your perspective on anything? Would you share an example or two?
Amitrano: These changes in the pandemic made me realize that nothing of our ordinary lives can be taken for granted and that we need to adapt to the changes that the world is making us face in the best way and state of mind. For example, I was taking for granted waking up every morning and going to school to see my professor and to go to the lab to do research. Only when I was constrained in the four walls of my room, I realized how much I missed it and the everyday interaction with such brilliant minds that when I will be able to go back to class and lab, I will never take it for granted again. Also, it has made me realize how far I am from my family and how much I worry about them. All my family is in Italy, and I would have loved to be next to them during these hard times. The fact that I may not even be able to go and see them even for only two weeks because of the pandemic makes me sad. But knowing that they always support me and love me even from so far away, helps me every day.